We are organizing a shuttle bus between Atlanta and Athens for those traveling into the Atlanta area for the 2017 Shakespeare Association of America conference. The bus will leave the Hyatt Regency Atlanta at approximately 8AM and will depart Athens at approximately 7PM to return to the hotel. There will be a cost associated with using the bus. We will provide more detailed information when it becomes available. Questions? Email moc.l1490399563iamg@1490399563xahsp1490399563macta1490399563ht1490399563.
Other Transportation Options
Groome Transport shuttle service (706-612-1155) runs between the Atlanta Hartsfield-Jackson International Airport and Athens for $36.00 for a one-way trip. The shuttle regularly departs the airport at 40 minutes on the hour, and trips to Athens take roughly 90 minutes. Follow the link to find their policies and schedule and to book online.
Athens Transit buses run throughout the city for $1.75 for adult rides; their routes can be found through the link above.
UGA Campus Transit offers free transportation around UGA's campus and to downtown and Five Points locations via Milledge Avenue. See the link for a full route map and schedule.
Car rentals are available at the Atlanta airport and also in Athens through Budget (1870 West Broad Street, 706-353-0600) and Enterprise (368 Oak Street, 706-546-8067).
Local cabs include Cab Athens Co. (706-546-0055), Five Stars Taxi Cab (706-549-2224), and United Taxi Cab (706-549-0808).
Parking:
UGA's campus has several parking decks with hourly rates and a maximum daily fee of $10; see the map below for locations.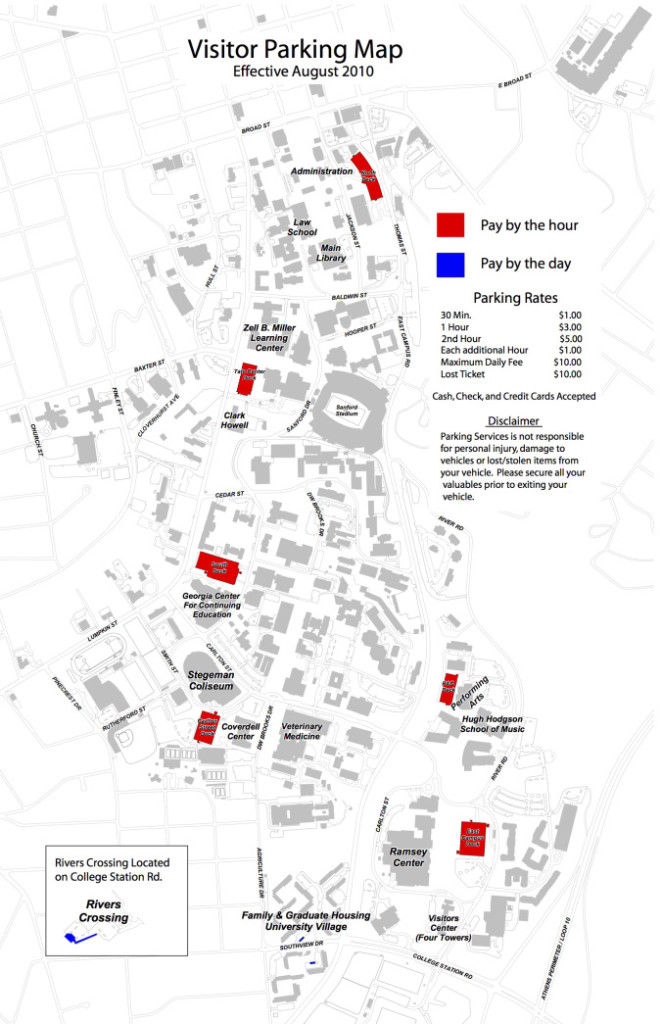 Downtown Athens has metered street-side parking as well as parking decks at 125 West Washington Street and 265 College Avenue; see the map below for more information on parking time limits and locations.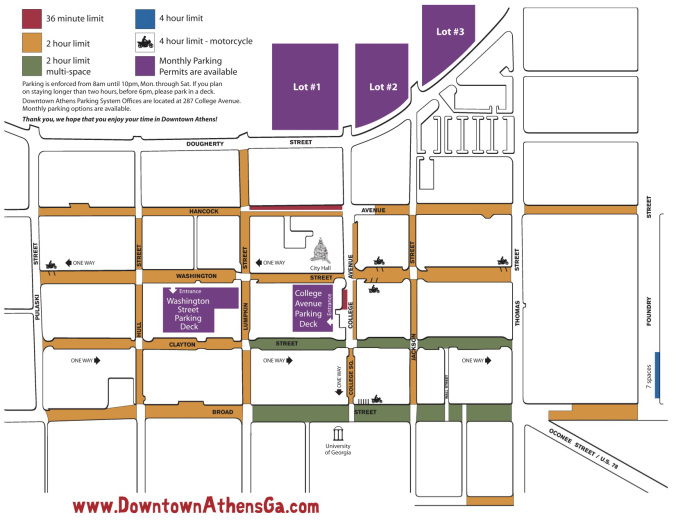 Accomodation:
If you are looking to stay in Athens prior to or after THATCamp, there are several local hotels. More information on accommodation can be found on the UGA website.
197 East Broad Street
Athens, GA 30603
(706) 549-4433
390 East Washington Street
Athens, GA 30601
(706) 353-6800
500 College
Athens, GA 30601
(706) 546-0430
295 East Dougherty Street
Athens, GA 30601
(706) 549-7020
166 North Finley Street
Athens, GA 30601
(706) 369-7000